It has gotten to the point in the year when there isn't even a hint of sunrise in the eastern horizon during my commute in. The official sunrise isn't until 8:41am (sunset is at 6:31pm) and until today I was at least able to tell which direction was east. I now can really appreciate the lighting on the Ural versus the BMW. So much more light on the road even though they both use the same H4 bulb. Just a newer headlight lens design. The LED fog lights put a nice pool of light on the road just in front and sides of the bike but don't add any distance. I still haven't moved the LED driving light over from the Cozy as I still haven't figured out the "best" place to mount it on the sidecar.
I had mentioned in my last post that the Gerbings gear was sent in for repair but it isn't really cold enough for it to be missed...yet. I did manage to get the Arctic Cat brand handlebar mitts that I've used on the Beemer the last two winters to fit. The challenge was that there was no allowance for the mirror stalk and the throttle cable on the Ural sticks out perpendicular to the bar. Plus I didn't want any pressure on the clutch or brake levers. It was a really tight fit compared to the Beemer but I think that it'll work. With the heated grips and these mitts, my regular riding gloves are more than adequate for our current temperatures.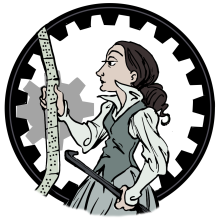 Today, October 14th, 2014, is
Ada Lovelace Day
.Or more formally known as Augusta Ada Byron, Countess of Lovelace and has been just recently heralded as the inventor of computer programming, mathematician and the founder of scientific computing. She lived between 1815 and 1852 which was well before the development of what we know as computers. But the concept of using a calculating machine as a general purpose computing device was unheard of at the time let alone the idea of computer generated music. Today is all about the celebration of women's achievements in science, technology, engineering and mathematics (STEM).